OK I left y'all down in the garage with the moto-journalists as we were gathering for the 1st day of our ride.
In the garage...the moto-journalists were all fully assembled...most of us were quite early...it was going to be an exciting day...starting with our breakfast with the chief of staff for the Governor of West Virgina....mmmmmm

This was to be the 1st and only time all the moto-journalists gathered together on time for our appointed morning gathering. Our guide was on time, but our host was not...we waited...and waited...she was just a "tad" late...mmmm ok. In the time we were waiting, one of the moto-journalists...who couldn't ride due to a broke bone in his wrist...had his Pickup truck kinda "bumped" into by a poor woman who could barely see over the wheel...the moto-journalists that we are...only one person was handy with a camera...hey, what can I say? Our cameras can not ride in open air....or can they? I always ride with my camera out...but it's junk...still it wasn't me who took the insurance pictures....it was someone with a cell phone. I've never used my cell phone....

Ahhh, there she is...we load our gear that we didn't want to haul on the bikes into her van...and off we roar... through the streets of Charleston...and through the gates of the Governor's Mansion...sweeping us through the front doors...and through a fun tour of the newly renovated mansion.




The tour of the mansion took us first to the foyer...where the black squares in the floor is marble from Belgium while the white marble squares are from Tennessee. All furnishings in this room have a great history. From the sofas to the chandelier there is much to learn from the artifacts in this one room!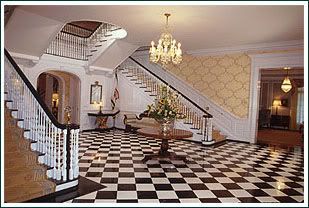 The next room to the right was the drawing room, but it and the library were closed due to renovations.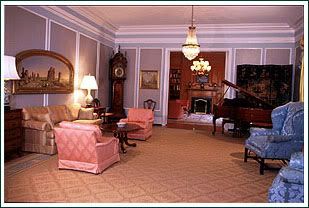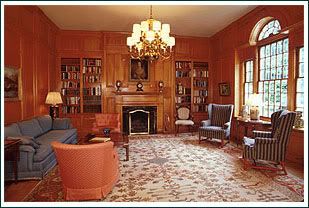 We visited the sun-room...






Then at last...we found the dining room...beautifully laid with find china but I think they held back on the silver service....





The table we were all sitting at was an 18th Century mahogany dining table and sideboard in the State Dining Room were once owned by United States Senator Clarence Wayland Watson of Fairmont. It can extend 14 feet and seat 22 people...

The breakfast was great, with French Toast, scrambled eggs, bacon and fruit....nnnnnummy.





Notice how the pat of butter is a tiny West Virginia? How cool...I wonder if anyone else noticed?





Breakfast was made lively by our fellow journalists, Edge and Rogue, who asked serious questions and made suggestions on various subjects pertaining to motorcycling in West Virginia....me? I was hungry, and I ate while Rogue and Edge kept the chief of staff answering questions...me thinks their breakfast was cold by the time they got to it...polite society and all...not willing to put a bite of food into their mouths while discussing problems...ugh...I am not that PC....eat and talk...it makes for better discussion when food is flying into the mouth as fast as the words are flying out!

After the breakfast was over, the chief of staff had to take off...we were left to wander about...I found these other rooms...oh want to see the dishes they feed the really important people on?




At some point we actually tore ourselves away from the lush mansion...climbed on our bikes following our guide out of Charleston toward our next destination: Little Coal River Trail-head.

This is only one set of trails out of six, that belong to the state run Hatfield and McCoy ATV and Off Road Trail System.





We were given our choices of four wheeled ATV's or two wheeled dirt bikes. Of course the more adventurous and the youngest of us took this route...I should make it clear, I am neither adventurous or of the younger generation. I stuck with the smaller 4 wheeled balloon tired ATV...while others choice the side by side ATV. It was the most fun I've had on four wheels! Right up until I knocked Big Rick off his ATV by running my vehicle into the back of his stopped ATV....he flew three feet into the air...and then another four or five feet horizontally...down the hill...he's a big guy...I really hit him hard...that kinda ruined the rest of the ride for me...we rode about 40 miles of trails that day...and until I gave Big Rick a flying lesson...I think both he and I were really have a GREAT TIME... Did I tell ya I'd never gone four wheeling before? It was great!





The Hatfield and McCoy Trail System in West Virginia is an impressive endeavor by the state...PLEASE>>>> check out their website! It is the largest trail system this side of the Mississippi...and you will not be disappointed in their work!
http://www.trailsheaven.com/about/default.aspx

We came off the trails, wet, muddy, and hungry. They fed us too...damn that lunch was good.






After lunch, we all climbed back on our Fat Boy's and Road Glides...and headed North East for Len and Lee's "Songer Whitewater Rafting"....boy do we have some stories to tell!