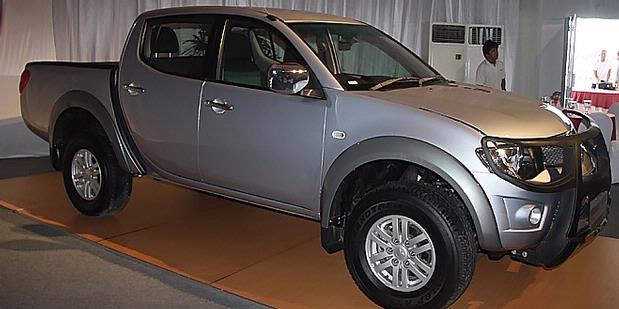 Strada Trion HD-X
Sebagai market leader di kelas pikap yang sudah digenggam selama 7 tahun berturut-turut, PT Krama Yudha Tiga Berlian Motors (KTB) coba mempertahankan prestasi itu dengan meluncurkan Strada Triton HD-X yang dilakukan di Palm Hills, Balikpapan, Kalimantan Timur, Rabu (24/3). Kendaraan kabin ganda baru ini sebagai pengganti kabin ganda GLX yang telah mendapat sentuhan sesuai kebutuhan pertambangan dan perkebunan.
HD-X menjadi kelanjutan sebuah legenda dari raja kendaraan 4WD (four wheel drive) untuk menaklukkan medan yang tak bersahabat. Sekaligus juga pelengkap keluarga Triton yang kini terdiri dari 6 varian, yakni Strada Triton Double Cab Exceed manual dan matik, Double Cab GLS dan GLS AB dan Single Cab GLX.

Sejak pertama kali diluncurkan pada 2002 dengan nama LS200 dan kemudian ganti nama menjadi Strada pada 2004 hingga kini, pikap Mitsubishi ini sudah terjual total 39.000 unit. Untuk Strada Triton sendiri sejaka 2005 sampai sekarang sudah terjual 36.000 unit.
"Khusus Strada Triton yang dilaunching pada 2004, tahun berikutnya sudah merebut market share. Dan khusus di Kaltim ini marketnya mencapai 60 persen," ungkap Rizwan Alamsjah, Executive Marketing Director PT KTB.

Makanya, lanjut Rizwan, kenapa Kaltim dipilih menjadi tempat peluncuran HD-X. "Termasuk Pall Hills. Kami sengaja membawa wartawan ke sini untuk membuktikan sekaligus merasakan sendiri ketangguhan HD-X," terangnya.

HD-X yang disasar sektor fleet dibekali mesin diesel 4M40 2,8 Liter SOHC bertenaga 97 PS dengan torsi 22 kgm. Mengenai harga, HD-X dibanderol Rp268 juta (off the road), kedua termurah dari keluarga Strada Triton setelah Single Cab GLX dengan Rp218 juta. Varian lainnya, D-Cab GLS Rp286 juta, D-Cab GLS AB, D-Cab Exceed M/T Rp306 juta dan D-Cab Exceed A/T Rp316 juta. Semua harga masih kondisi off the road.